Vintage Port is the product of a single vineyard in an exceptional year. It is bottled when it is just two years old, still very full and fruity with high levels of tannin. It matures in the bottle, reaching its peak in ten, fifteen or even longer years. But you do not have to wait that long to enjoy it. Vintage ports can be very enjoyable any time, at any occasion.
---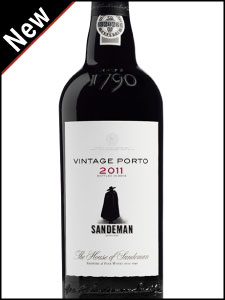 Sandeman Vintage 2011
- The wine is complex yet elegant in character. Almost opaque, it is purple-deep crimson to the rim. On the nose it entices with aromas that include blueberry and cassis, notes of cedar and cigar boxes as well as hints of nutmeg, saffron and black pepper. On the palate, its balance impresses. The lively, powerful, close knit tannins are integrated with the elegant acidity to support the rich flavours of ripe red berry fruits and the cedar notes from its time in oak. The finish is persistent and memorable.



Product Features:


• 1 Bottle of Sandeman Vintage 2011
• Weight - 2.20 kilograms (approx.)
• This item will be shipped directly from the producer's cellars, via the Portuguese Post Office's air mail service.





---

---

---

---

---

---