Late Bottled Vintage (LBV) Ports
Late Bottled Vintage (LBV) Ports are wines of a single vintage and are aged in wood (casks) for four to six years. Although "Traditional" LBV Ports may be unfined and unfiltered and aged in glass before releasing, most are filtered, and stabilized when bottled and are meant to be drunk when they are released without decanting. Serve LBV Port at room temperature or slightly cooler. It will hold its good taste for a few days after opening provided it is kept closed with the cork stopper.
---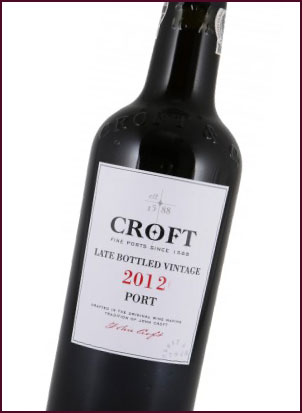 Croft LBV 2012
- Pungent, aromatic nose, rich purple colour. Luscious, ripe, black cherry and plum fruit with notes of cedar and spice. The wine is wonderfully rich, fragrant and concentrated with layers of fruit. An elegant wine with good complexity, sweet black fruit with notes of cocoa and mocha. Lovely, intense finish full of flavour and delicate tannins.



Product Features:


• 1 Bottle of Croft LBV 2012
• Weight - 2.20 kilograms (approx.)
• This item will be shipped directly from Portugal, via the Portuguese Post Office's air mail service.